Rifle Ammo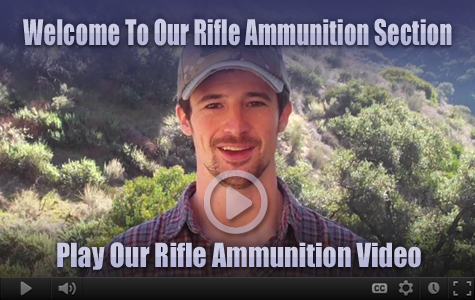 Choose Your Particular Rifle Ammo Caliber Below
History of Rifle Ammunition
By Sam Jacobs
Although the supply and usage of rifle ammunition varies greatly, nearly all firearm manufacturers produce a firearm that is chambered in 22-caliber. In fact, out of all rifle ammo, the .22 LR is the most renowned, commonly used rifle cartridge ever seen. Not only rifles, but many handguns are also made for this caliber, which was introduced in 1887 by the J. Stevens Arms and Tool Company.
There are hundreds of variations of rifle ammunition available. However, the 22 LR sets itself apart from other rifle cartridges because of its compatibility with other guns. The manageable recoil, quietness, and affordability make the .22 LR an ideal cartridge for novice firearms training and recreational shooting activities.
Rifle ammunition is separated into two categories: centerfire and rimfire. In a rimfire cartridge, the firing pin strikes the rim of the cartridge base, while in a centerfire cartridge, the primer is housed and ignited in the center of the cartridge head instead. A rimfire cartridge has a long and wide percussion cap that contains priming compound, while the cartridge case itself holds the bullet and the gunpowder.
Rimfire ammunition can only be used in guns that fire at a low pressure because they need a thin case in order for the firing pin to successfully ignite the primer. Thus, rimfire cartridges are usually .22 caliber or less, and they are much less common than the standard centerfire cartridges. Another aspect of rimfire cartridges that makes them far less popular is the fact that they cannot be re-used, since the impact of the firing pin irreparably damages the head.
A centerfire cartridge, on the other, hand is re-usable, as the primer is contained separately and can therefore be replaced. Centerfire cartridges can also handle much greater pressure, so they can be used in many more guns. While centerfire cartridges are a bit more expensive than rimfire cartridges, they are the ideal cheap rifle ammunition for anyone that is serious about their shooting needs. Centerfire cartridges are used in almost all modern rifles, and anyone with a gun that is strong than 22-caliber absolutely must have a centerfire cartridge.
While there are many different rifle ammunition cartridges available, the above information details the most important information regarding rifle ammunition. All rifle ammunition is considered either centerfire or rimfire, with centerfire being far more common than rimfire.