Welcome to America's Pro-Freedom Online Ammo Source
Shop by Caliber or Brand
128-Bit SSL Secure Shopping
Live Customer Support
Bulk Ammo Discounts
America's Pro-Freedom Source For Buying Ammunition
Featuring super fast shipping and everyday low prices on a range of different calibers of cheap ammunition, Ammo.net also makes an automatic donation on your behalf to your chosen pro-gun or pro-military organization every time you buy ammunition with us. Simply pick your chosen pro-freedom organization once your order is placed and we'll donate 1% of your order's value to whichever organization you've chosen - at no cost to you. So buy your cheap ammunition here, get it quick at a great price, and support those who protect our freedoms - only at Ammo.net!
Check Out Our Most Popular Ammunition Calibers And Brands Below
We carry a wide range of handgun, pistol, rifle, rimfire, and shotgun calibers. You can also shop by brand to quickly find the ammunition you need from a particular manufacturer.
Ammo.net is designed to be easy to use and navigate. We conveniently list exactly what we've got in-stock whenever you visit our website so you know that your order will be promptly filled. Most importantly, we pride ourselves on our stellar customer service, so if you have any problems or questions, don't hesitate to contact us. Thanks!
How long will my order take to arrive?
We ship orders received before 3pm EST on weekdays the very same day. Orders received after 3pm EST, on a weekend or a holiday ship the next business day.
---
Who do I contact if I have questions?
Call us at 800-604-1094.
Shop By Brand
Handgun Ammo
Rimfire Ammo
Rifle Ammo
Shotgun Ammo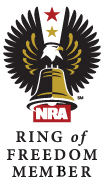 When you buy from Ammo.net, your order will ship the same day or the next business day - guaranteed. That's because all of the ammo you see on our site is in our warehouse, on-hand & ready to ship.
We also donate a percentage of the cost of every round sold to your chosen pro-freedom organization (at no cost to you!). It's our mission to get your ammunition to you quickly and at a great price - and help support those who protect our freedoms in the process too.